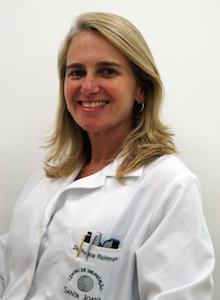 Rosana Richtmann, MD is Director of the INFECTIONS CONTROL COMMITTEE (ICC) from Santa Joana Hospital and Maternity, São Paulo, Brazil, a position she has held since 1990.
She is also the chef Director from the Infection Control Committee from Pro Matre Paulista, Sao Paulo.
She is the past President of the Infectious Diseases Society from Sao Paulo.
She is Infectious Disease physician from Emilio Ribas Institute of Infectious Disease from São Paulo.
Dr Richtmann obtained her medical degree in 1984 from Medical School from Santos, Brazil and in 1990 she obtained her Doctor Degree in Germany at the ALBERT-LUDWIGS- UNIVERSITAT FREIBURG - Freiburg University School at Hospital Epidemiology and Hygiene Department.
Dr Richtmann is the past President from Infectious Diseases Society from São Paulo, Brazil. She is also a NACHRI member- National Association of Children's Hospitals and Related Institutions- from CDC – Atlanta – USA
Dr Richtmann is an effective member from the CTAI (Comite Tecnico Assessor em Imunização), Brazilians Permanent Advisor Committee in Immunization, from the Brazilian Health Ministery
Dr Richtmann has published many national guidelines about nosocomial infections in neonates; catheter related infections, immunization and many book chapters and participated as an invited speaker in more than 400 scientific talks.
rrichtmann@uol.com.br