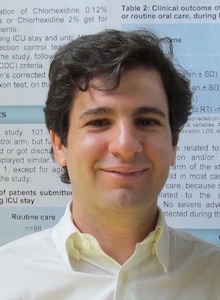 Social Medicine Department, Ribeirão Preto Medical School - University of São Paulo, Ribeirão Preto, Brazil
Infection Control Service, University of Geneva, Genève, Switzerland
Graduated in medicine and specialized in Internal Medicine and Infectious Diseases at the University of São Paulo – Brazil, obtaining after a Master degree and a PhD on Infectious Diseases, at the same university.
His main topics of interest are: health-care associated infections, antimicrobial resistance, and tropical infectious diseases.
His current affiliations are: Post-doctoral fellow of the Hôpitaux Universitaires de Genève, Geneva – Switzerland, and Professor of the Department of Social Medicine and Head of the Infection Control Service of the Ribeirão Preto Medical School – University of São Paulo – Brazil.