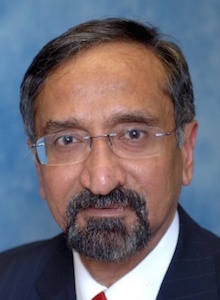 WHO, Geneva, Switzerland
Southern Health & Social Services Trust, Portadown
Medical Microbiology, Queens University, Belfast, United Kingdom
Dr Nizam Damani is the Associate Medical Director of Infection Prevention and Control (IPC) at the Southern Health & Social Services Trust, an honorary lecturer in Medical Microbiology at Queens University, Belfast, UK and senior consultant at the World Health Organization HQ in Geneva.

He trained and worked in Karachi, Nairobi, London, Belfast and Geneva. He is a recognized expert in the field of IPC in healthcare facilities both in low- to middle and high income countries.

He was member of the WHO core group of the 1st Global Patient Safety Challenge 'Clean Care is Safer Care' and was the country co-ordinator for the WHO pilot site for the implementation of the Hand Hygiene programme. He has served on various project boards, working parties and steering groups, both at a national and international level both for governmental bodies and organizations, including N. Ireland Dept. of Health, Ministry of Health in Egypt, European Union and WHO.

He is the founding member of the Infection Control Society of Pakistan. He was a member of the national Working Party of Antibiotic Sensitivity testing method of the British Society of Antimicrobial Chemotherapy. He also served as treasurer of the International Federation of Infection Control (IFIC) and is current chair of the IFIC Membership Committee.

He has made presentations at many national and international meetings, often as an invited speaker, and has also given various key note lectures. He has published extensively in scientific peer reviewed journals. He is the sole author of Information Resources in Infection Control (6th edition) and Manual of Infection Prevention and Control (3rd edition), which has been published by the Oxford University Press and has been translated into various languages.